My Skin-Care Routine
Anzeige/Ad (Markennennung) | A subject I've wanted to share with you for some time is my skin care routine. Firstly, because I am sure that my experience and the associated tips can help many of you out there and secondly it is a part of my daily life. For several years I have had to fight with impure skin. 
When it began, it certainly had something to do with puberty. Most of the teenagers have unclean skin. This is due to the hormonal change, but not too dramatic. In German, there is a saying "eyes closed and get through it". For some, it started a little earlier and was worse, and for others, it started a little later or it may never have really accrued. I'd even say back then I was more the person of the second category. I didn't have the purest skin, but it was okay. At some point, however, the tide turned. At the time around 17/18 years, I was very into the topic of care and beauty in general. So I watched a lot of beauty videos and tried a lot out going from crémes to other care products to dietary supplements. 
At some point, it even went as far as cosmetics. Yeah, I even watched makeup tutorials for men. And no, not for the full kinda look, but more for an everyday makeup. In that it was less about eyeshadow and contours but much more about natural day creams and Concealer against dark circles, redness or even pimples. As time went by, my skin got worse and worse. And I am very sure that my skin was simply overstrained at that time and that I was using bad or even wrong products, which were rather clogging my skin than relaxing and caring for it. 
This dragged on for a whole year until I tried new things. For example, I tried cosmetic cleanings and laser treatments. I have to say about the latter – I always found it very unpleasant. And after I had a burn on my chin after the 4th session, I decided that this should also be my last session. The cosmetic cleaning, on the other hand, was always great and I can only recommend it! But you have to go there regularly, otherwise, it doesn't really work. Success is only seen in the long run. However, with the long run, one will have also a longer bill, because the cosmetic cleanings are not cheap. For example, I quit back then because it was simply too expensive for me. At this time I also used many expensive products for cleaning and care, which is why I simply couldn't handle both of it.
When I moved out of my home a year ago and moved in with my sister and brother-in-law, I completely changed my skin care. Since I stood "on my own legs", I also had to take care of my finances by myself. So I decided to switch to a cheaper alternative. Since my cousin recommended The Body Shop at that time, I tried it and finally ended up with the cleanser Seaweed Deep Cleansing Gel Wash and moisturizer Vitamin E Moisturizing Cream. From time to time I also used a mask, where I can absolutely recommend the Chinese Ginseng & Rice, as well as the Mineral & Ginger. I was very satisfied with all the products and have minimized my costs for care products a lot!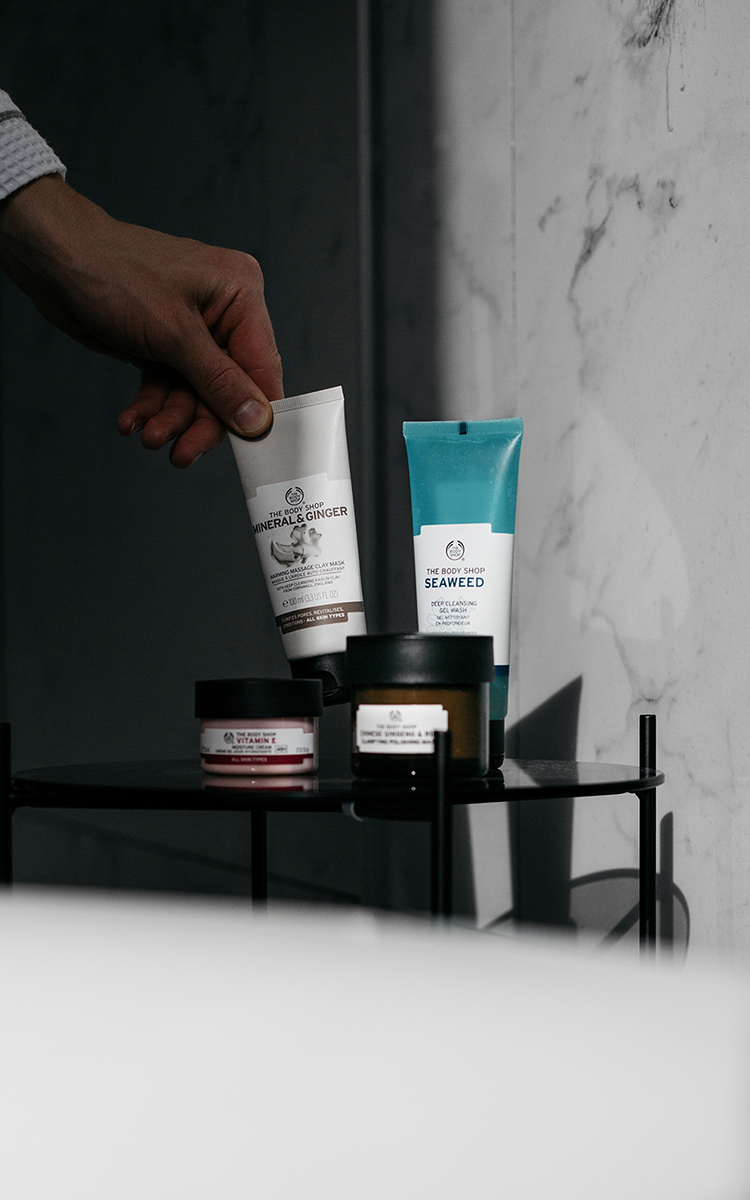 About 2 months ago I wanted to test something new again and finally ended up at Āesop. Anyone who knows Āesop knows that it is not necessarily so inexpensive. But since I heard a lot of good things, I tried it. The end of the song – I was/ and still am super happy! I started with the Amazing Face Cleanser, B & T Balancing Toner and the In Two Minds Facial Hydrator. From the beginning, I had no problems whatsoever and my skin reacted fabulously to the new products.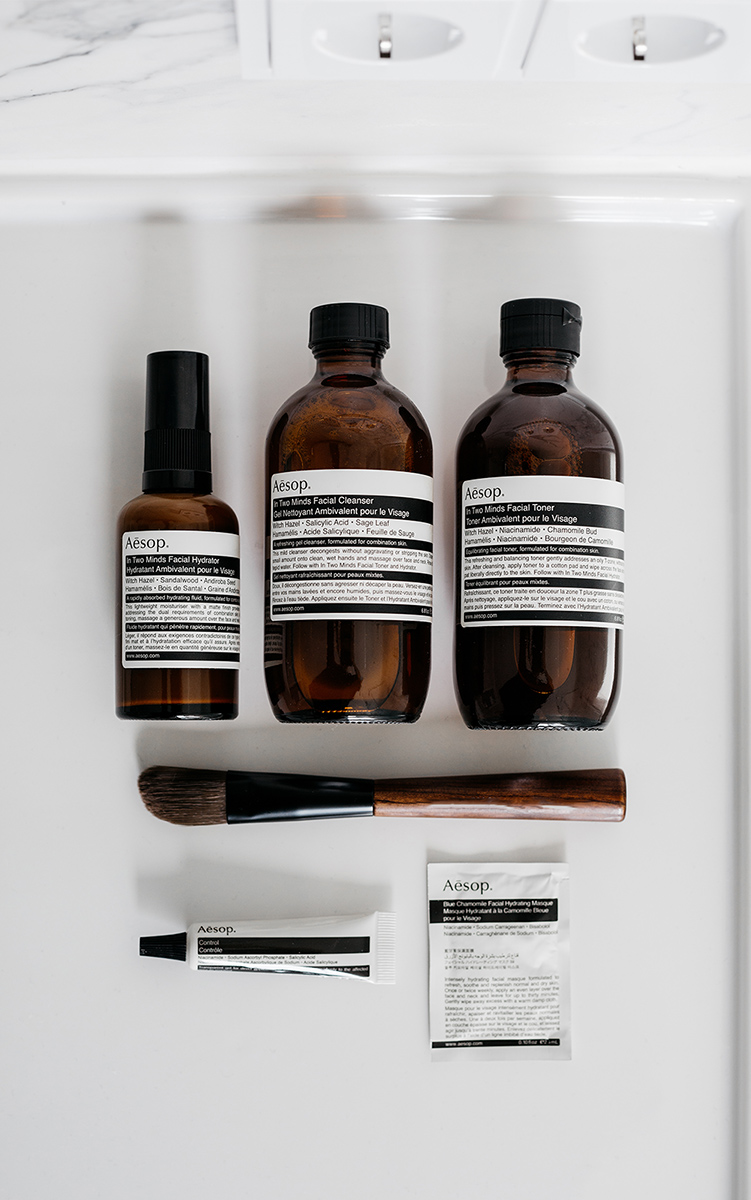 Now that I was so positively impressed, I also tried a few other products and finally ended up with the entire In Two Minds series, which was specially developed for the combination skin. Who's wondering like: "What's he talking about?!" The combination skin tends towards shiny areas on the forehead and/or nose, with dry to very dry areas on the cheeks. She is also more prone to irritation. 
In the following, I will explain step by step what to do and what exactly the respective product should help with. 
Step 1

 




In the beginning, we start with the In Two Minds Facial Cleanser. This ensures that the skin is cleaned properly and thoroughly. The excess oil is removed and the skin is prepared for the subsequent moisturizing treatment.
Step 2

 


In the second step, I use the In Two Minds Facial Toner. This refreshes the skin after cleansing. It also relieves the skin from excess sebum and prepares for the subsequent moisturizing treatment.
In my previous skin care routine, I didn't have any toner integrated. After I switched to Āesop and now use one, I can't do without it anymore. On the one hand it gives me the full confirmation of a cleansed skin and on the other hand, I always feel incredibly refreshed in my face afterward. This may also be due to the natural and pleasant fragrance. What I don't like at all are artificially perfumed products.   
 Step 3 
Step 3 is of course optional. You don't have to do it, but I would recommend it at a healthy distance. Usually, I use one mask every 9-10 days. For example, I often use masks after long journeys – especially after flying.
In this case, I use the Primrose Facial Cleansing Masque. This is a clay-based mask that removes residual dirt from the skin and provides it with regenerating vegetable oils. A little tip – paint the mask with a brush. That way it can be distributed better and more evenly and you avoid further bacteria on your face, which could still be on your hands (of course rinse thoroughly afterward).
Step 4

 


Let's come to the last step of my routine. After the toner or even the mask, now follows the humidity care. Here I also use the In Two Minds series. 
The In Two Minds Facial Hydrator consists of a highly effective composition of herbal ingredients, which soothes the skin after cleansing and provides it with nutrients.
---
Here you will find my previous blog post.